The Business Value of Concur Invoice
PREMIUM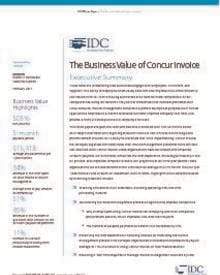 IDC White Paper explores what modern invoice solutions can do for your business.
Modernize your invoice processes or you risk being left behind. In the digital era, spending choices for employees abound, making it harder to manage costs, cash flow and the bottom line. Financial leaders are looking to new user-friendly, business-ready Invoice solutions to make it easier.
The Business Value of Concur Invoice, a new white paper by IDC, sponsored by Concur, explores the costs and benefits of Concur Invoice and how Concur customers are improving invoice management processes by:
• Delivering intuitive end-user experiences
• Allowing users to submit and approve from their mobile devices
• Enhancing compliance
• Increasing productivity of business users and employees within the AP department
• Decreasing the reliance on IT staff
Download the white paper to learn how organizations are leveraging Concur Invoice to drive efficiency, cost savings and business insights.
IDC White Paper Commissioned by Concur: The Business Value of Concur Invoice, February 2017.
Your copy is ready.
Gain access to all premium content once you fill out the form.
Please share some information about yourself to receive premium information that can help you solve the major travel and expense challenges businesses face today.
Concur respects your privacy. The information you provide us is intended for internal use only, and we will not share, sell, or distribute your information. View our privacy policy. You will receive educational information and news about Concur products and services.